HOME >
SB48: Exhibition Booth and UNFCCC Side Event (8 May, 16:45 – 18:15)
SB48: Exhibition Booth and UNFCCC Side Event (8 May, 16:45 - 18:15)
Report of UNFCCC SB48 Exhibition Booth and Side Event in Bonn, Germany
Exhibition Booth
The OECC displayed the recent information materials related to the JCM at the UNFCCC SB48 exhibition booth in Bonn, Germany. The electronic publications are available at the UNFCCC website.
Date
Tuesday, 1 May – Thursday, 10 May 2018
Venue
Rhine Level, World Conference Center Bonn (WCCB)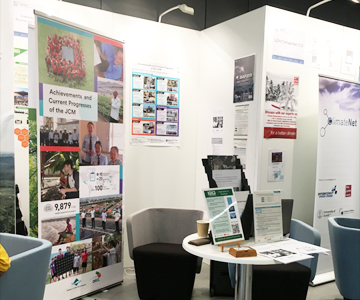 Side Event
"Empowering developing countries to gain access to climate finance through capacity building"
Building national capacity is key to achieving a paradigm shift towards low-emission, climate-resilient development pathways and effectuating transformative change in developing countries. The shift in the climate finance regime from a donor-driven to a country-driven approach reinforces the need of developing national capacity to advance climate actions.
Building capacity of developing countries to access climate finance includes, inter alia, raising awareness on available sources of climate finance, creating enabling environments for investment, training and skills development on all aspects of funding proposal preparation, and knowledge sharing on good practices in mobilizing financial resources from public and private sectors. When equipped with knowledge, skills and expertise, developing countries will be capable of designing and implementing country-driven climate change investment activities or projects to fulfil their Nationally Determined Contributions (NDCs) under the Paris Agreement.
Video Coverage by UNFCCC is available at:
Skype Meeting Broadcast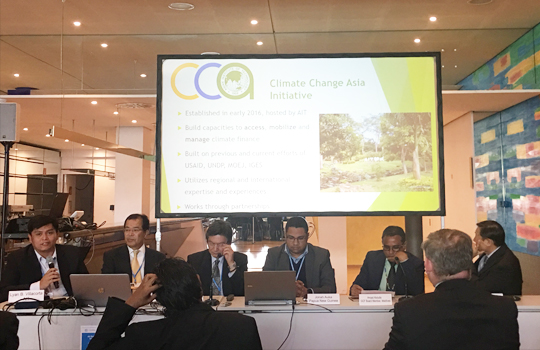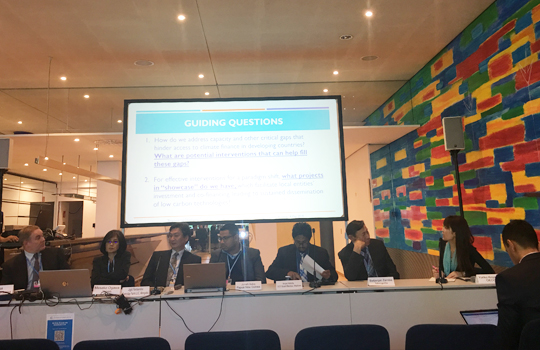 Objective
This side event aimed to exhibit and appraise various aspects of capacity-building support provided to developing countries in the area of climate finance.
Panelists, including government representatives and practitioners, shared:
– Experiences and lessons learned from participating in capacity-building activities
– Insights on effective approaches and good practices in building capacity
– Critical capacity gaps that hinder greater access to climate finance
Date
8 May 2018, Tuesday, 16:45 – 18:15
Venue
Kaminzimmer, World Conference Center Bonn (WCCB)
Organizers
Asian Institute of Technology (AIT), Overseas Environmental Cooperation Center, Japan (OECC), Ministry of the Environment, Japan (MOEJ)
Participants
Around 50 Participants (Government officials, UN agencies, civil society, private sector, and other stakeholders)
Side Event Report
Agenda
Introduction
Moderator: Mr. Amjad Abdulla, Green Climate Fund (GCF) Board Member, Maldives

16:45-17:45

Mr. Lyan B. Villacorta, Programme Officer, AIT

Dr. Batjargal Zamba, UNFCCC Focal Point, Mongolia (former Minister of Environment)

Mr. Jonah Auka, Climate Change and Development Authority, Papua New Guinea

17:45-18:10

Panel Discussion with Q&A

Moderator:
Ms. Yuriko Koyanagi, Researcher, OECC
Panelists:
– Ms. Masako Ogawa, Director for International Strategy on Climate Change, Global Environment Bureau, MOEJ
– Mr. Scott Hook, Pacific Islands Forum Secretariat
– Dr. Batjargal Zamba, UNFCCC Focal Point, Mongolia
– Mr. Jonah Auka, Climate Change and Development Authority, Papua New Guinea
– Mr. Jigjid Rentsendoo, Everyday Farm LLC, Mongolia