HOME >
Carbon Forum Asia 2012: Outcome Report
Carbon Forum Asia 2012: Outcome Report
Carbon Forum Asia 2012
Outcome Report: Exposition on Japan's Bilateral and Domestic Credit Offset Mechanisms
The Overseas Environmental Cooperation Center, Japan (OECC) co-organized the Japan Pavilion jointly with the Institute for Global Environmental Strategies (IGES), the Environmental Restoration and Conservation Agency (ERCA) and the Certification Certer on Climate Change, Japan (4CJ) at the Carbon Forum Asia 2012 in Bangkok, Thailand from October 30th to 31st. We were delighted to welcome many visitors at our booth and have fruitful exchanges of information with them during the two days of the event.
IGES and OECC also organized the side event titled "Japan's supporting programme for NAMAs and BOCM in Asian countries" on October 31. Side event information available from here.
The participation in the Carbon Forum Asia 2012 is part of activities of the New Mechanisms Information Platform, a program of the Ministry of the Environment, Japan (MOEJ).
Website of Carbon Forum Asia 2012:www.carbonforumasia.com.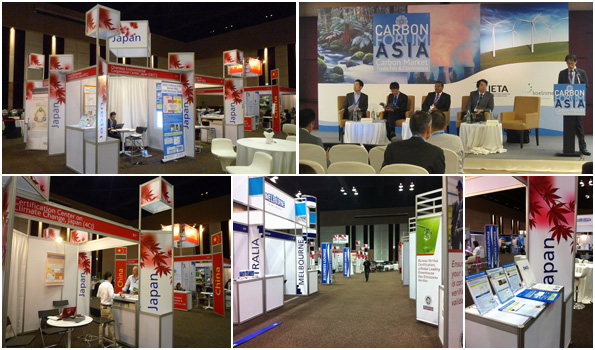 Questions and Opinions of the Visitors
Regarding Japan's Bilateral Offset Credit Mechanisms (BOCM)
– Development status of the BOCM
– Development status of bilateral negotiations on the BOCM
– Expected prices of BOCM credits, fungibility with other markets, estimated issuance amount of credits
– Differences between the BOCM and the CDM
– Differences between the BOCM and the Emission Trading (e.g. Green Investment Scheme)
– Details and development status of BOCM methodologies
– Eligible project types of BOCM
– Purpose of implementation of BOCM in the 2nd commitment period of Kyoto Protocol
– Benefits of project participants without BOCM credit revenue
– Potential verification bodies/third parties of the BOCM and cost of verification
– Possibility for entities of host/third-party countries to be involved in BOCM projects
– Request for intoduction of Japanese partner companies
– Request for capacity building in Small Island Developing States
Regarding Japan's carbon offset initiative
– Market size and trend of credit prices
– Importance of Japan Carbon Offsetting Scheme and J-VER Scheme within Japan's policy
– Relationships between the domestic scheme and the BOCM
– Relationships with similar domestic schemes, such as the Tokyo Cap and Trade program
– Methods for demonstration of additionality in J-VER scheme
– Differences between neutral certification and offset certification
– Future prospects of X-VER (application of J-VER's experience in other countries)
– Motivation of offset certificate actions by Japanese entity
– Current status of carbon offset related schemes in Japan (awareness level, number of project, etc.)
– Relationships between international VER (e.g. Gold Standard, VCS, etc.) and J-VER
– Possibility for utilization of overseas credit (e.g. VER) in Japan's domestic schemes