HOME >
Open Seminar "Promoting the Joint Crediting Mechanism (JCM) in Viet Nam" (Organizer: MOEJ, OECC)Tokyo, Japan
Open Seminar "Promoting the Joint Crediting Mechanism (JCM) in Viet Nam" (Organizer: MOEJ, OECC)Tokyo, Japan
2014.03.04
Open Seminar
Promoting the Joint Crediting Mechanism (JCM) in Viet Nam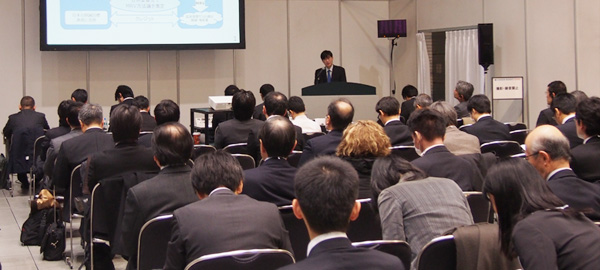 The Ministry of the Environment, Japan (MOEJ) and Overseas Environmental Cooperation Center, Japan (OECC) co-organised the seminar "Promoting the Joint Crediting Mechanism (JCM) in Viet Nam" on 4 March 2014 in Tokyo. The seminar aimed at sharing recent updates of the JCM scheme, which is an initiative promoted by the government of Japan. The seminar focused on JCM activities conducted in Viet Nam and invited Vietnamese representative of the JCM Secretariat, Mr. Le Ngoc Tuan.
The seminar venue was almost packed with participants who attended the seminar. In Session 1, Dr. Mizuno from MOEJ introduced the overview and the subsidy scheme of the JCM. In the opening of Session 2, Mr. Tuan from the Ministry of Natural Resource and Environment, Viet Nam presented their activities to combat climate change, benefits to be gained through the JCM, and the overview of the JCM studies such as Feasibility Studies (FS) conducted in Viet Nam. Mr. Satoh from OECC, who is in charge of conducting capacity building for NAMAs and JCM studies in Viet Nam, introduced JCM support programmes. Then reports were made by private companies conducting JCM model projects and JCM project planning studies (PS) in Viet Nam: Namely, Renova, Inc.; Mayekawa Manufacturing Co., Ltd.; Hitachi Zosen Corporation.
During the questions and answers session, speakers replied to several questions including technical ones related to JCM support programmes, JCM model projects and FS/PS.
The seminar was conducted as part of the "Carbon Market EXPO2014" organised by MOEJ and the Carbon Offset Forum. (Only Japanese language is available in the website.)
Date
4 March 2014, Tuesday 10:15-12:15 (Registration from 10:00-)
Venue
Seminar Room (in Exhibition Hall 1, at B2 Floor), Tokyo International Forum
Address: 3-5-1, Marunouchi, Chiyoda-ku, Tokyo, 105-0005 Japan
Organizer
The Ministry of the Environment, Japan (MOEJ),
Overseas Environmental Cooperation Center, Japan (OECC)
Language
English/Japanese (simultaneous interpretation)
Number of participants
Approx. 100
Participation Fees
Free
Agenda
10:00-10:15
Session 1: Overview of the JCM
10:15-10:25
10:25-10:30
Questions and Answers
Session 2: Actions taken in the JCM partner country
10:30-10:50

Mr. Le Ngoc Tuan, Viet Nam side's Chief of Secretariat for JCM
(Director of the Science, Technology and International Cooperation Division, Department of Meteorology, Hydrology and Climate Change, Ministry of Natural Resource and Environment, Viet Nam)

10:50-11:00

Mr. Mizushi Satoh, Researcher, OECC

11:00-11:45

JCM Model Project and JCM Project Planning Studies (PS) in Viet Nam
Mr. Sotaro Noda, Manager, Climate and Energy Solutions,
Renova, Inc. (Ex. Recycle One, Inc. )
Mr. Ryohei Kise, General Manager, Global Project Sales Group,
Mayekawa Manufacturing Co., Ltd.
Mr. Masanori Tsukahara, Senior Manager, Global Business Promotion Department,
Hitachi Zosen Corporation

11:45-12:15
Comments from the Panelist / Questions and Answers etc